Come see and share what we've discovered about the wonderful scientific adventure called Water Rockets.
Our Satisfied Customers
NASA

Honda

NBC

Whirpool

US Army

US Navy

Parks Canada

Boy Scouts

Princeton University

Penn State University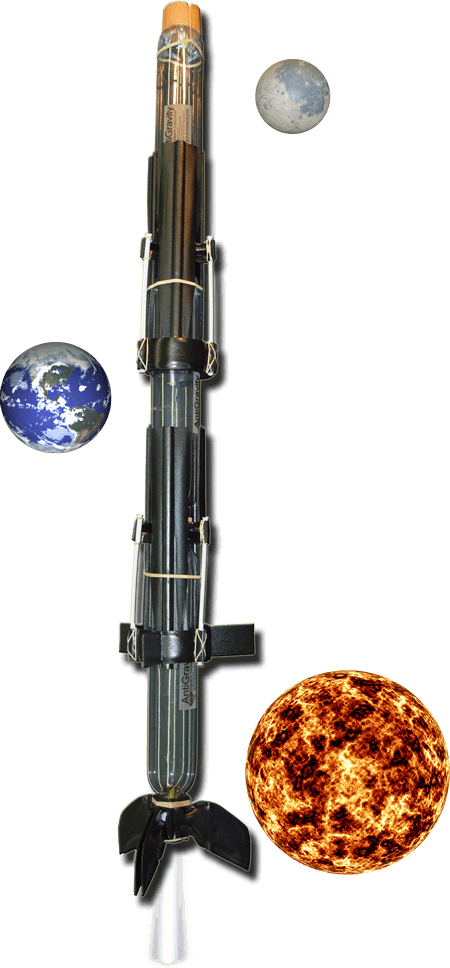 AntiGravity water bottle rockets are a step above for any amateur rocketeer.
Once you get your hands on one of our proprietary rockets, study it. Examine the fin materials. See first-hand the impact-absorbing reusable mechanical connections. Learn how they triumph over aerodynamics that slow other rockets down.
Experience the ease with which this well-designed system goes together. Marvel at the world's simplest and best launcher.
It'll inspire you to go beyond what you ever thought possible, to invent, to innovate, to create, to triumph over the impossible.
…or, you could just have plain old fun with it!
AntiGravity rockets are unique in a way that they're simple (for you) but complex (on physics).
About AntiGravity Water Rockets
While many of our competitors rockets boast 30 feet or 30 meters in height, even our single stage rockets will go a whopping 100 meters (that's over 300 feet) straight up into the azure sky.
we have 9 different rocket models that you can assemble and enjoy.
we have 1, 2, and 3-stage rockets. We recommend the 1-stage rockets for beginners though.
our Extreme 3-stage rocket is almost 5 feet tall, and soars over 200 meters into the sky (600+ feet).
our rockets have broken world records
you can benefit from our automatic bulk discounts whether you're just buying ten rockets for a birthday party, or 25000 rockets for a nationwide technology program.
worldwide shipping – with express options available if needed.
We hope you can learn from our simple, effective approach to water rockets. Make sure to let us know what you think on our contact page!
We Broke The Pop Bottle World Record!
Plenty of crashes, smashes, explosions and failures, followed by success! 1242 feet altitude!  Make sure to see all three parts of this record-breaking video!